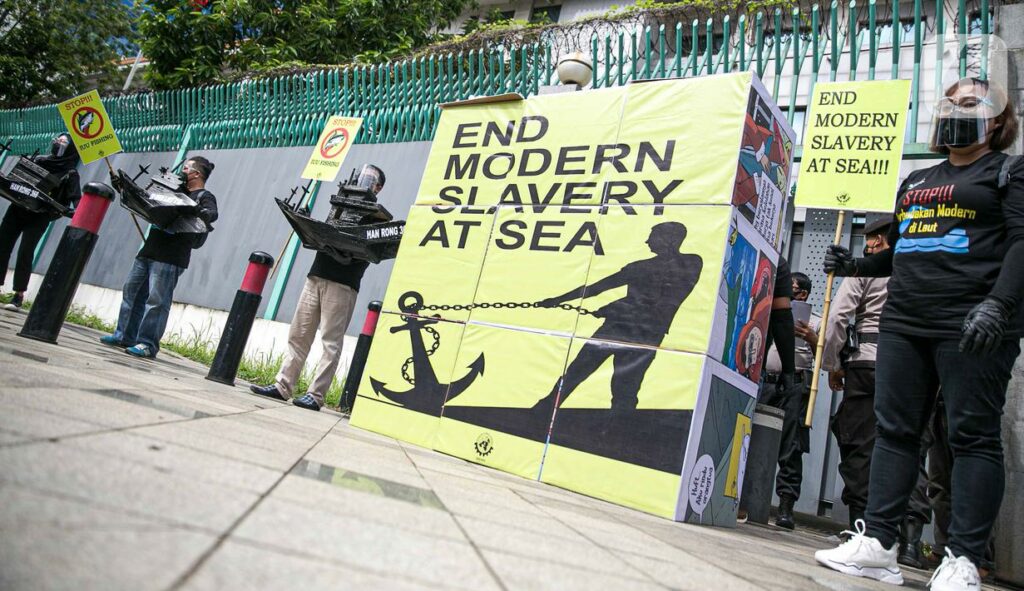 "Social justice for all Indonesian people," so goes the 5th and last principle in Indonesia's official and foundational theory, the Pancasila. According to the Pancasila Ideology Development Agency (BPIP2), this principle refers to two things: One, that Indonesia was established in the spirit to seriously advance the welfare for all Indonesian people, both physically and mentally and two, that Indonesia has the obligation to guarantee education, work, and a dignified and just life for every citizen. However, sadly, after more than 75 years of independence, not all levels of Indonesian society have experienced justice and a decent or dignified life. Look no further than the Indonesian Migrant Ship Crews (ABK).
Throughout 2020, Foreign Minister Retno Marsudi said there were 692 Indonesian crew members who experienced problems on 115 fishing vessels owned by Chinese companies. Not to mention, quoted from the statement of the National Coordinator of Destructive Fishing Watch (DFW) Indonesia, Moh. Abdi Suhufan, in 2020 alone, at least 22 migrant workers died, with 3 of them disappearing in the middle of the sea. Meanwhile, in a report by Greenpeace and the Indonesian Migrant Workers Union (SBMI), there were 34 Indonesian migrant fishers who reported indications of slavery or forced labor with 4 main complaints, namely: 11 cases of fraud, 9 delays in payment, 8 complaints of excessive overtime work, and 7 cases of sexual harassment. According to the SBMI investigative paper report, in 2020, 9 crew members died on foreign fishing vessels as a result of inhumane work practices.
In the Fishers First document – Good Practices to End Labor Exploitation at Sea by The ILO (International Labor Organization) it is stated that the work of crew members on fishing vessels is included in the 3D category – dirty, dangerous, difficult which makes the jobs difficult to recruit for. This means that there is a shortage of fishers on these ships, leading to illegal recruitment practices or practices that are not in accordance with applicable regulations and standards such as recruitment of crew members with low levels of education and attracted by false promises of large salaries. In a prior report by KORAL, it found that there were at least 10 points of human rights violations carried out by manning agents and those in charge of foreign fishing vessels in cases of exploitation and forced labor of migrant fishers that had been revealed so far.
So far, concerns and appeals from several organizations about the fate of the migrant fishers have been continuously conveyed to the Government. The latest update regarding the issue that came from the Government came from two Ministries – the Ministry of Foreign Affairs and the Coordinating Ministry for Maritime Affairs and Investment. Foreign Minister Retno Marsudi said that bilateral and multilateral diplomatic efforts with China's Foreign Minister had been carried out. Retno also said that Indonesia encouraged the Ministry of Foreign Affairs' bilateral cooperation to ensure that the protection of migrant ship crews in 2021 would be carried out more comprehensively. These efforts will be carried out by establishing a roadmap for ratification of the ILO C-188 Work in Fishing Convention, conducting an MPU for the special placement of crew members with destination countries, as well as the use of mutual legal assistance for strict law enforcement for the perpetrators.
Meanwhile, the Coordinating Ministry for Maritime Affairs and Investment continues to strengthen the protection of Indonesian fishers and fishing vessel crew members through the preparation of the National Action Plan for the Protection of Seafarers and Fisheries Crew (RAN-PPAKP). This arrangement aims to ensure that Indonesian citizens who work in the capture fisheries sector, both domestically and abroad, are protected. Deputy for Coordination of Maritime Sovereignty and Energy at the Coordinating Ministry for Maritime Affairs and Investment Basilio Dias Araujo also said that there are three root causes for the weak protection of Indonesian ship crew members on foreign fishing vessels: First, standardized education and training for fishers and crew members using the STCW-F (Standard of Training, Certification, and Watchkeeping for Fishing Vessel Personnel) are nonexistent because the Ministry of Maritime Affairs and Fisheries has not budgeted the funds to purchase the IMO standard curriculum syllabus. Second, there is no governance to regulate the manning agent companies for seafarers and crew members. Third, there is no national integrated database that can be used as a reference for the exact number of crew members who are abroad.
Indonesia itself does not have regulations that regulate ship crew members on fishing vessels. The existence of Law Number 40 of 2007 concerning Limited Liability Companies, Law Number 17 of 2008 concerning Shipping, and Law Number 18 of 2017 concerning the Protection of Migrant Workers, which is now amended by the existence of Law Number 11 of 2020 concerning Job Creation, can at least be a basis for strengthening and clarifying the regulatory flow that binds and obliges the parties involved in the recruitment process until the return of fishers and crew members back to Indonesia occurs in a safe, fair and supervised manner. So that if they run into problems while on duty abroad, Indonesia can assist them with clear legal points and, of course, appropriate legal instruments which will deter future violators.
In addition, in the Minister of Maritime Affairs and Fisheries Regulation Number 35 of 2015 concerning the System and Certification of Human Rights in Fisheries 13, there are laws and regulations that bind entrepreneurs in the fishery sector to implement the Fisheries Human Rights system as described in Article 4 and Article 5. However, there is a need for more detailed and binding regulations concerning the obligation for entrepreneurs in the fishery sector to standardize recruitment, training, and sanctions imposed if violations occur. This is important because, as stated on the INSTAGRAM LIVE-SAPA COALISI KORAL First Edition event last Thursday, DFW and Greenpeace agreed that there is a need for comprehensive and massive efforts from upstream to downstream to prevent the recurrence of forced labor and exploitation, as well as deaths of ship crew members. We could say that currently, the right to a decent, dignified, and just life in accordance with the 5th principle of Pancasila, does not apply to migrant fishers and crew members who fighting for a better life while working on distant water fishing vessels. Regardless, wherever they may go, these migrant ship crew members are still part of the Indonesian people. As such, it is the duty of the state to ensure that they receive security, justice, and a decent life, even though they work far from their hometowns. The hope is that the existence of the Job Creation Law will not only focus on bringing fresh air in the investment sector and the Indonesian economy, but also a wind of change in efforts to protect, supervise, and improve the welfare of Indonesian fishing crew members.
1https://bpip.go.id/bpip/berita/1035/256/makna-pancasila-sebagai-pandangan-hidup-ketahui-isi-dari-kelima-butirnya.html
2https://bpip.go.id/bpip/profil/440/profil.html
3https://nasional.kontan.co.id/news/sepanjang-2020-ada-692-abk-indonesia-menemui-masalah-di-kapal-perikanan-china
4https://www.gatra.com/detail/news/502970/hukum/22-abk-indonesia-meninggal-dwf-minta-jokowi-turun-tangan
5https://www.greenpeace.org/static/planet4-southeastasia-stateless/2019/12/b68e7b93-greenpeace-seabound-book-c.pdf 6https://www.ilo.org/wcmsp5/groups/public/—ed_norm/—declaration/documents/publication/wcms_515365.pdf
7KORAL, Hak Asasi ABK Terombang-ambing Tanpa Kejelasan
8https://www.antaranews.com/berita/1989740/pemerintah-perkuat-perlindungan-pelaut-dan-awak-kapal-perikanan
9https://peraturan.bpk.go.id/Home/Details/39965/uu-no-40-tahun-2007
10https://peraturan.bpk.go.id/Home/Details/39060 11https://peraturan.bpk.go.id/Home/Details/64508/uu-no-18-tahun-2017
12https://peraturan.bpk.go.id/Home/Details/39965